Meet Our Owner and Founder:
Jennifer Clark
Hello! We are so excited you took a look at Petiquette's webpage. My name is Jennifer, and along with my husband and kids, we are the proud owners of Petiquette Pooch Concierge. We were both born and raised here in beautiful Massachusetts. We love everything about New England – the History, the people, the pups, and our beloved sports teams!
Continue reading to learn more about Petiquette Pooch Concierge & Petiquette Pet Spa.
My passion for animals started at a very young age; while practically growing up on a farm, I was blessed to have many animals, and I loved and cared for each of them. When I say all, I mean pigs, cows, chickens, horses, donkeys, and even a bull. You get the idea. My goal in life has always been to be around animals, and I was determined to make it happen. I left my job in corporate America and never looked back. It has been the best decision other than being married and having children.
My husband Al and I, our kids Abby & Aiden, along with our current fur-babies Blu, Clover, Cleo, and our beloved Peanut (rescue kitty) and Chico (rescue lab/mix), who we miss very much. We enjoy everything from hiking, beaching it, volunteering at rescues to just sitting in our yard and watching our three rescues run around and live the life. We hope you enjoyed visiting our page.
Puurrfect & Pawesome!
Thank you – Jennifer, Owner
Jessica
Hi! My name is Jessica, and I am so excited to begin to get to know you all and your Furry Babies! A bit about myself, I was born in West Palm Beach, Florida and moved to Ohio at 13 and began middle and high school, and graduated from Hilliard Ohio Darby High School. My family always had dogs and cats, and I started volunteering at the Humane Society for a couple of years which started my passion for animals. I moved to Boston in 2016 and began working for a doggie daycare. I worked hard and moved up to supervisor at Red Dog Resort and Spa and then Manager at the Continental. I decided I wanted to learn grooming after covid hit and began earning my certification for grooming at Neponset Animal Hospital. I stayed there for nearly 2 years to learn all I could. Now I'm incredibly excited to have a new start at such a beautiful facility! I will ALWAYS be gentle, loving, and compassionate towards your pet as if they are my own. I promise to always do my best and bring your fur baby home looking gorgeous thank you for reading, and I can't wait to meet you and your pets.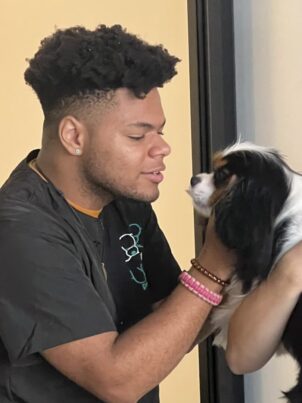 Darryus
Hey there, I'm Darryus, a Professional groomer here at Petiquette! I've loved animals all my life and have been working with animals for the last 3 years. I've been in grooming for nearly 2 years and am very excited to continue in a career where I am able to help give animals the best care possible and keep them beautiful as well. I have groomed hundreds of dogs and nearly a cats so that get to a professional standard of grooming and so I can work together with pet owners to keep their pets healthy, comfortable and beautiful.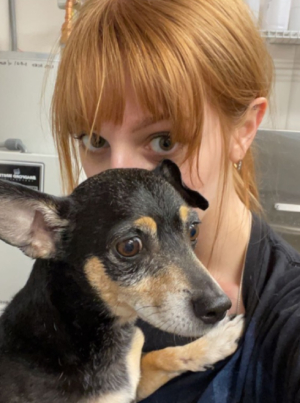 Angelica
Hi, my name is Angelica, and I've been a dog bather for a little over a year in New Jersey and just moved back to Boston. I will pamper your pups with a fabulous wash, blow dry and massage only using the best smelling products. No animal is too big or too small for me to work on. I love them in all shapes & sizes. Excited to meet!